Power packed web login to access real-time portfolio from anywhere, anytime.
Be an informed investor with real-time data and reports. Experience the journey of goal-based Investments that can help you in the accomplishment of your individual goal.
Invest, Earn and Elevate
Mobile App for ease of transactions and track investments.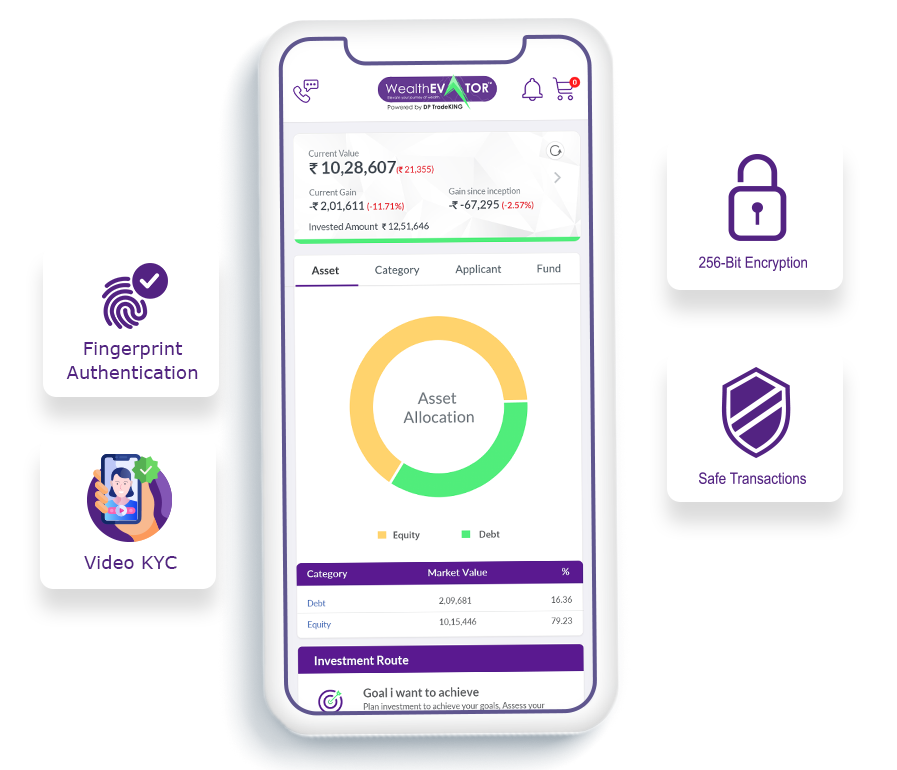 Client Onboarding
Sign up in minutes, one-time KYC process within the app.
Verify your KYC/Video KYC available.
Buy and sell mutual funds, or start SIP with few taps
Start SIP or invest one time (Lumpsum).
View Fact sheet of all Schemes.
Mutual Fund Portfolio Tracker
Dashboard to track all your overall investments snapshot
Track your existing investments.
Track your annualized returns and total returns
Check details of holdings and mutual funds
Track your Family's Investment.
Transaction details and order history.
Invest with a Purpose
Define Goals in line with your Life Plan
Track when the Goal will be met
Invest to cover Shortfall in all Goals
Access anywhere, anytime
Cloud-based Realtime web login to access and transact.
Portfolio Valuation
Summary of CAGR on current investments with allocations by various fund, category,holding, sectors. Define a standard format and save it for future use by clients.
Portfolio with XIRR
Summary of realized and unrealized gains since inception or for a given period of time.
Comprehensive Portfolio
Customize a comprehensive portfolio report with sections as per requirement.
Portfolio Screener
View your current portfolio and filter by various parameters to extract insights.
Redemptions Simulation
If you had not sold your investments, what would be the value today.
All transaction types
Purchase, SIP, Switch, Redemption.
Capital Gain Summary Report
A quick snapshot of the taxable capital gain in Mutual funds and Shares portfolio. View the true picture of capital gain for scheme merger cases as well.
Capital Gain Detailed Report
A comprehensive breakdown of the Taxable capital gain for each sell transaction done in a FY. Effect of indexation in Long Term Debt and Grandfathering in Long Term Equity.
Safety & Data Protection.
Along with PIN and Pattern, we have provided Fingerprint mode of Biometric Authentication for Mobile App login. This eliminates the pains of remembering passwords and suffering the dreaded account lock after too many password attempts. All data movement is with 256-bit encryption. We take privacy seriously. Bank-level security protects your sensitive personal details and prevents unauthorized access & use of your information.